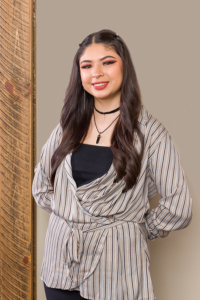 Vanessa, Stylist
PROFESSIONAL since 2022
Salon Ultimo Team Member since 2022
EDUCATION
2022 Minnesota School of Cosmetology graduate.
SPECIALTIES
I enjoy all aspects of coloring but love creating flawless foils! While you are in my chair, my goal is to use my creativity to achieve your desired look.
Education and creativity are extremely important to me. I enjoy learning new things daily to help keep my creativity flowing, allowing me to find new ways and techniques to stay at the front of the trends. When I am learning, I am my best self!
I am so lucky to have joined the Salon Ultimo team. There is no better place for me to build my knowledge and experience. I am committed to taking advantage of all the education and knowledge from the years of experience Salon Ultimo has to offer.
"Every mistake creates a new learning opportunity to become better."