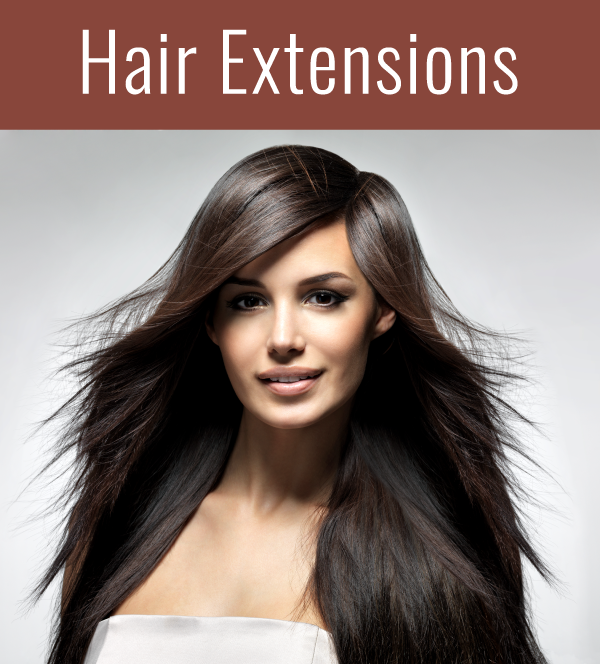 Hair Extensions
Extensions are available in an array of colors, lengths, and textures that can also be used to create vibrant flashes of color and highlights without coloring your hair or to add length or volume. Call now to setup a free consultation. Price quotes cannot be given over the phone.
Amplify
Life is short, but your hair doesn't need to be. We are certified in Amplify Tape and Hand-tied Extensions. These are comfortable to wear, fast, and easy to apply. We keep these stocked in the salon.
Amplify Hair Extensions are made with the highest quality 100% cuticle-intact, Remy Human Hair. Amplify Hair Extensions' one of a kind "Nano Panel" is the lightest, thinnest, most comfortable panel on the market, which is not only easy and remove, they are damage-free and undetectable. Consultation required. Can be done same day.
Perfectress
Perfectress extensions can be professionally attached with three techniques: transformation connectors, link wefts, and link weft minis. Which one your hairstylist uses on you depends on your lifestyle and what type of look you're trying to achieve.
Transformation connectors are perfect for active lifestyles because they're unaffected by heat and sweat. They enhance your natural hair with length, volume, color, and texture.
If you're looking for a drastic length, the left weft is a great, fully customizable option. Your stylist can combine sew-in, clip-in, and links to achieve the look you want. The weft has an ultra-thin base and is undetectable, so you'll always feel comfortable.
Perfectress offers 100% Remy cuticle Euro-blend human hair. Remy cuticle hair means that all the cuticles are sorted in the same direction, and all cuticles are intact. Remy cuticle hair is the finest quality for any hair type. The hair is extremely durable and can be used for at least a year of constant wearing. This hair is also infused with a Perma Moisturizing Treatment, a form of protein injected inside the hair cortex to prevent drying. Perfectress hair extensions come in three textures – silky straight, natural body, and body wave – and a wide selection of colors that do not fade. With various systems, textures, lengths, and colors, all women can find extensions that will naturally enhance their beauty. Consultation required.
Great Lengths
Great Lengths, the unparalleled extension system that has changed the worldwide definition of hair design, will make your desire for thicker, longer, more beautiful hair a reality. With the Great Lengths patented technology for the application of 100% natural human hair strands, the limitations presented by all other extension systems are eliminated. Whether your application is for length, volume, color enhancement, or simply to update your current style, this revolutionary system will harmonize beautifully with your natural strands without ever displaying the visible telltale signs that are so common with other extension systems.
With Great Lengths there are no styling limitations, no heavy-duty maintenance regimens and no restrictions on the use of styling tools. Once applied, Great Lengths is your hair. Because of its unique bonding method, Great Lengths offers all of these advantages without ever compromising the integrity of your natural hair! Consultation required.