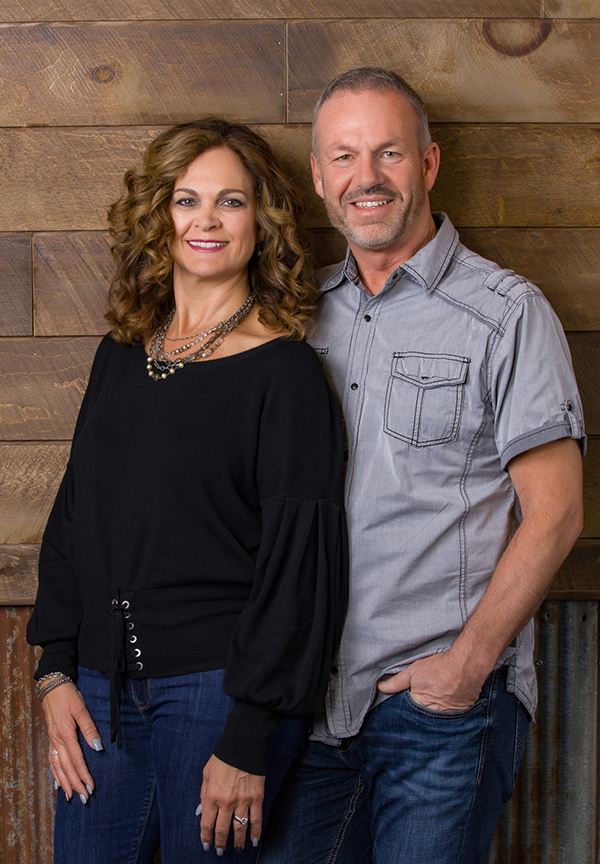 Chris & Shannon Schultz, Owners
Proprietors Since 2006

Chris grew up in Wisconsin. He enlisted in the Air Force and was stationed in California for four years. He received an Airframe Power Plant license and moved to Minnesota to work for Northwest Airlines as a mechanic for seventeen years. Chris' mother was a stylist and owned a salon for many years. Chris had no idea that he would end up following in his mother's footsteps.
Shannon grew up in White Bear Lake, Minnesota. Her mother is a stylist and owned a salon where at an early age Shannon was immersed in the industry. Later she worked there as a stylist for nine years, before coming to Salon Ultimo. After six years, Shannon was excited when offered the opportunity to purchase Salon Ultimo. She quickly realized that her ideal business partner would be her husband Chris and the timing was perfect. At that time NWA was laying off employees and Chris was just about to lose his job. The previous Salon Ultimo owners, John and Rebecca were ecstatic when Shannon gave them the news that her and her husband Chris had decided to purchase and partner together. Shannon and Chris worked with John and Rebecca for a year and a half while they learned the business. In 2006 Chris and Shannon became full owners of Salon Ultimo. Shannon works behind the chair as a Master Stylist while mentoring and educating the staff.  Both Chris and Shannon work closely with the management team creating and implementing the everyday operations of the salon. Chris wears many other hats at the salon. He is the CEO, mentor, and all-around handy man. Chris not only takes care of the salon, but helps out the 32+ women when they need their car batteries changed, bathroom tiled, or washer and dryer hooked up.
Chris and Shannon have been married since 1995. They have two beautiful daughters Kennidi and Savannah and a dog Bailey. They are dedicated to making Salon Ultimo feel like home to their employees and clients. They are committed to giving back to the community and contribute to local and national organizations.